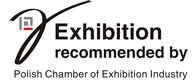 There is a need for the trade fair
There is no such technology that we would not implement for patient's sake. SALMED trade fair is needed – said Krzysztof Kordel, President of Wielkopolska Physician Chamber during the 26. edition of the International Trade Fair of Medical Equipment and Instruments SALMED.
Trade fair – value that cannot be overestimated
SALMED trade fair is the largest event of this kind organized every two years. Nowadays we of course have the Internet and many contact possibilities, but in my opinion, this opportunity for direct contact, possibility to talk, determine certain details, get to know one another still constitute a value that cannot be overestimated – emphasized Witold Włodarczyk, Managing Director of the Polish Chamber of Commerce of Medical Devices POLMED.
This year's edition gathered almost 4 000 professional visitors who had an opportunity to admire the offer prepared by over 200 exhibitors from 10 international countries, among others from Austria, China, Czech Republic, Switzerland, Hungary, Germany, the United Kingdom and Italy. 31 companies presented novelties in medical equipment and instruments, equipment for hospitals, clinics and medical rooms including furniture, medical equipment, disposable medical equipment, laboratory, rehabilitation, physiotherapy equipment, equipment used in emergency medicine and medical rescue as well as solutions from the area of communication and information technologies. 9 of the novelties were awarded with a prestigious Gold Medal of MTP – the award for innovativeness and high quality.