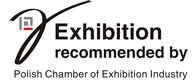 SALMED GOLD MEDAL WINNERS 2018
Gold Medal Award is one of the most recognizable award in Poland, which is granted after a carefull assessment of experts to innovative products of the highest quality, meeting a number of criteria and manufactured on the basis of the highest class of technology.
Among many of submissions, the Jury awarded 8 products with the Gold Medal of SALMED 2018.
Congratulations to all exhibitors whose products have been awarded with this prestigous award.
PRODUCTS AWARDED THE MTP GOLD MEDAL AT THE
International Fair of Medical Equipment and Instruments
SALMED 2018
All the MTP Gold Medals are equivalent. The list is arranged alphabetically by product.
Wszystkie przyznane nagrody są równoważne. Gratulujemy Wystawcom, a Was zachęcamy do zapoznania się z najbardziej innowacyjnymi produktami 2018 roku.
PHOTO - Złoty Medal - SALMED 2018.zip
1.AsPEKT 712 v.301 + AsPEKT Konfigurator application
ASPEL S.A., Zabierzów
Hall 7A

 

The AsPEKT 712 v.301 recorder is a battery-powered digital device intended for registration and recording on a microSDHC card of a 12-lead and 3-lead ECG Holter monitoring (with 10, 7 and 4 electrodes) for the period of 24 hours, 48 hours or 7 days. The recorded ECG results are read and analysed by the HolCARD 24W software. Possibility to register stimulation and two types of events. The recorder has been equipped with a colour display and a capacitive keypad which allows the initial configuration of the recorder and preview of the quality of the ECG signal. AsPEKT Configurator is a software enabling wireless management of long-term ECG recordings. The application allows you to configure the parameters of the recorder, information about the examination and ECG signal preview, as well as to start the examination registration in the recorder. The software is designed for installation on devices running Android 4.1 or later, equipped with a Bluetooth wireless communication module.

2. Deka – versatile hospital bed
STIEGELMEYER Sp. z o.o., Stolno
Hall 7A

Excellent quality of the Deka beds materials, well thought out features and varied equipment options guarantee long life and many application possibilities. Each institution can create its own hospital bed using the available options in order to match the local medicine market requirements and the intended budget. A wide range of top shapes and colours available makes it possible to adapt Deka beds to the client's individual needs. Its functionality and aesthetic value of workmanship make it a perfect match for each hospital ward.

3. EKP XC type electrical pure steam generator
STIGEN Sp. z o.o., Żywiec
Hall 7

EKP XC electrical pure steam generators are intended for processes requiring high purity steam, and thus they are perfectly suited for medical sterilization. All parts in contact with water or steam are made of high quality stainless steel, as well as the housing and the device structure. The EKP XC model meets the requirements of the EN 285 standard, which has been confirmed by the TUV Rheinland certificate.

4. Evario – clinical bed for all hospital wards
STIEGELMEYER Sp. z o.o., Stolno
Hall 7A

Modern Evario bed is suitable for daily patient care, intensive care, and as a support in rapid recovery. It has been equipped with innovative PROTEGA side rails, which are operated with one hand only. They protect the patient up to the height of 41 cm, and the integrated control panel placed on either side allows the user to adjust various bed functions. Thanks to the wide range of height adjustment from 32 to 91 cm, Evario can always be adapted to the optimum position. Out-of-Bed system provides a number of features for the patient and for making the work of medical staff easier, e.g. automatic bedside lamp or phone notification if a patient gets out of bed. The additional 24 V function helps to save electricity

5. LASER FOTONA – entire clinic in one device
FOTONA d.o.o., Slovenia
Submitted by: BTL POLSKA Sp. z o.o., Warsaw
Hall 8A




FOTONA is a global leader in laser technologies used in aesthetic medicine, surgery and dentistry. Over 50 years of experience has enabled the FOTONA company to create the most advanced and versatile laser technologies in the world. Laser heads combined in an intelligent, multifunctional systems enable the professionals in clinics and treatment rooms to carry out a complete range of laser treatments. In every field of aesthetic medicine, FOTONA lasers achieve outstanding, often unattainable effects of treatment. The fastest and safest laser systems on the market – innovations by FOTONA.

 

6. BTL CardioPoint CPET ergospirometrical system
BTL Industries Limited, Great Britain
Submitted by: BTL POLSKA Sp. z o.o., Warsaw
Hall 8A




The BTL CPET system enables the diagnosis of the cardiovascular and respiratory system during exercise. It is perfect for using in medical facilities, and it allows you to make precise analyses, interpretations and right diagnosis.

7. Teddy Bed. Youth bed for hospital wards
FORMED Pro Sp. z o.o., Żywiec
Hall 7A




Column, electrical bed, designed with special emphasis on safety and unique needs of children, carers and staff. It has a user-friendly design and many functional solutions to assist children and adolescents during their hospital stay. Teddy Bed also offers such solutions as e.g. handheld table located within the child's reach, easy to assemble and disassemble; removable containers hung on the bottom of the bed for storing the belongings of the patient and carers.

8. WPC type exchange pure steam generator
STIGEN Sp. z o.o., Żywiec
Hall 7




WPC type pure steam flow exchange generators are designed for processes requiring high purity steam. All parts in contact with the pure medium are made of hygienic elements. The use of a separating and cleaning tank in the WPC generator construction allows you to eliminate any possible residual impurities and non-condensable gases. The WPC model meets the requirements of the EN 285 standard, which has been confirmed by the TUV Rheinland certificate.