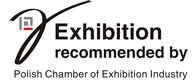 SALMED 2016 response to contemporary medical sector challenges
The first aspects to be covered by the organisers with the medical experts during the International Trade Fair of Medical Equipment and Instruments SALMED are already known. Progress in the field of rehabilitation, civilisation diseases, public procurement law, medical rescue services, management training are but a few of SALMED mottoes.
Visit the fair to acquire knowledge
The content partners of the nearest edition of SALMED fair will give lectures to share their knowledge on what steps to take to face the challenge in front of the medical facilities' managers, healthcare managers, doctors and healthcare personnel.  Committee for Social Rehabilitation and Integration of the Polish Academy of Sciences Branch in Poznań will invite to a Conference within the Polish Rehabilitation Promotion which will be devoted to progress in rehabilitating patients with civilisation diseases. The conference will be aimed at exchanging academic experience related to medical and social problems in rehabilitating patients suffering from civilisation diseases and also inspiring for further studies in the field of pulmunology and continued post-procedural rehabilitation. The following problems will be covered during the session: "Rehabilitation in heart transplantation and cardiovascular disease", session moderator: prof. dr hab. med. Piotr Dylewicz; "Rehabilitation in lung transplantation and selected diseases" - session moderator: dr hab., prof. nadzw. Aleksander Barinow-Wojewódzki and "Rehabilitation in liver transplantation and metabolic disease", session moderator: prof. dr hab. med. Marian Grzymisławski. The conference will be held under the honorary auspices of: President of the Polish Academy of Sciences Branch in Poznań, Marshall of the Voivodeship of Greater Poland, Voivode of Greater Poland, Chancellor of the Medical University of Karol Marcinkowski in Poznań, Chancellor of the University of Physical Education of Eugeniusz Piasecki in Poznań, Polish Society of Physiotherapy Branch in Greater Poland.
During SALMED - LABORATORY event, there will be 8th Academic and Training Conference held. Also the following topic will be covered: "Civilisation diseases as a challenge for contemporary laboratory medicine".
Polish Economic Chamber of Medical Devices POLMED is going to invite to the panel entitled "Public Procurement Law in the Medical Devices Sector". The panel members, i.e. Witold Włodarczyk, CEO of OIGWM POLMED and attorney Oskar Luty, Partner in DFL LEGAL Office, legal expert of POLMED will cover such issues as the directive amendment perspective, sample agreement between the contracting entity and the contractor, authorised and nonauthorised service in procurements, as well as decision-related trends in procurement-related cases.
During SALMED - NURSING block, there will be an event entitled "Challenge of 21st century in documenting the work of nurses and midwives" held, organised by the Regional Chamber of Nurses and Midwives.
Another content partner of the fair, i.e. Medipment.pl portal, proposes its Seminar for medical facilities' managers, healthcare managers, doctors and healthcare personnel, devoted to the selection and looking for equipment, as well as a Seminar devoted to website tools supporting sales.
SALMED also stands for Medical Rescue Services, and meetings planned e.g. by the representatives of the Polish Association of Private Hospitals and the Association of Healthcare Managers STOMOZ.  The conference for business was promised by the organiser of conferences and training sessions for healthcare practitioners, Medical Maestro.