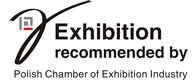 Read new issue of Poznań Fair Magazine
We kindly invite you to read the latest issue of "Poznań Fair Magazine". We invite you particulary to read about the GOLDEN MARKETING CONFERENCE, which take place in November. The main topic of this year conference will be neuromarketing, innovation and personalization. PMT readers' interested in participation in the conference can take adventage of special discount.
In this issue we present an overview of the most important events that we had pleasure to organize lately, not only in Poznań,  report from Gala Gold Medal - Consumers' Choice along with the history of the Gold Medal Award. We also write about transparency in business and present business dress code by Polish clothing and footwear brands joined in the program POLISH FASHION.