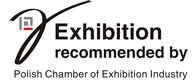 27.06.2018
We present You the latest issue of Poznań Fair Magazine. We invite You to read both its paper and online version. In this issue we present the distinguished guests who visited Poznań International Fair in the recent months, provide reports on the spectacular fair and events, and present Arena Hall, which joined the group of objects managed by the Poznań International Fair. And moreover…
11.03.2018
We are presenting you program of events.
02.03.2018
Gold Medal Award is one of the most recognizable award in Poland, which is granted after a carefull assessment of experts to innovative products of the highest quality, meeting a number of criteria and manufactured on the basis of the highest class of technology.
21.02.2018
GET TO KNOW THE LIST OF NEW PRODUCTS AT SALMED FAIR 2018!