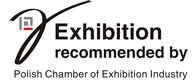 Regulations, terms, provisions
We invite you to read the additional information to help you paricipate in SALMED trade fair.
► Regulations for participants

The document setting out all the rules for the participants of the fair organized by the Poznań International Fair.

This document define the conditions for exhibitors and co-exhibitors as well as contains information about the registration fee, fees for the use of the power grid, and waste disposal.
This document will be available soon.
► Specific provisions

This document contain information about dates, as well as access documents and other details regarding the participation in the fair.
This document will be available soon.