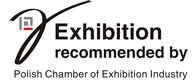 Exhibitors' Press Service
Dear Exhibitors,
To make your participation in SALMED fair more effective we offer you Exhibitors' Press Service
which include:
If you publish your corporate press release with picture online, you will increase your chances of publication In specialized magazines and in general press covering business issues. Websites of our products are visited by any media representatives searching for information about a given industry.
MTP Contact for the Media
Thanks to our service, you  can identify your contact person to facilitate relations with journalists.
Your materials will be in the focus of attention  thanks to our service. The Press Center plays a special role during trade shows: it is a place of work and rest for journalists, a forum for talks and interviews.
More about the  Exhibitors' Press Service (download)
Contact:

Małgorzata Barczak
tel +48 61 869 2524, fax +48 61 869 2960
e-mail: malgorzata.barczak