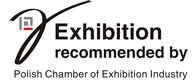 About competition
The Gold Medal is an expert recommendation and in selected cases also consumer recommendation for the prize-winner products and services. The new competition formula endows the participants with a range of measurable benefits, is a perfect test for those companies who seek for a confirmation of the innovativeness of their products.
Test conducted in December, 2O13 in a group of 1OO Gold Medal winners proved that as many as 80% of them saw a dramatic rise of interest in the awarded products among their clients and 78% were planning to participate in the MTP Gold Medal competition.
In the year 2012 453 medals were awarded. A total of 100,000 votes were cast. The whole year was crowned with a Gala celebration. The event was attended by representatives of leading Polish companies and lectures were given by  specialists in the fields of management, business psychology and strategy, well known in the industry.
During the evening Gala nearly 1,5OO people gathered in the Earth Hall witnesses the presentation of awards for the winners of the prestigious Gold Medal - Consumers' Choice award.