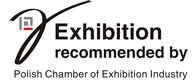 They are with us in 2020:


03.03.2020
In accordance with the recommendation of the Chief Sanitary Inspector, the Management Board of Grupa MTP decided to postpone the SALMED International Trade Fair of Medical Equipment and Instruments to September 1st – 3rd, 2020.
14.01.2020
The Gold Medal is not only an award, it is a recommendation of experts for the presented products and a promotion strategy, which starts at events organised by the MTP Group. This years' edition 8 products from SALMED fair have been awarded.
14.01.2020
Are you planning to visit the fair? Have you already bought a ticket? Make sure you have lunch!
07.01.2020
Let your novelties be visible at the fair!83% of fair visitors are coming to see market novelties! Surprise them with something new! SALMED Fair is the best place to show and promote new products on the polish market.
03.01.2020
Cyber-security and computerization in health care, a start-up zone, or various software offerings for the rehabilitation sector - these are just some of the things planned for SALMED 2020. Experts will be taking a closer look at the changes in the Public Procurement Law. The event will also feature solutions that will make it easier for medical institutions to select equipment. The project is supported by key medical organizations.
More news
---

Salmed 1-3 September, 2020
The most awaited fair of medical instruments
The heart of medicine beats in Poznań!
SALMED International Trade Fair of Medical Equipment and Instruments organised every other year promotes the cutting-edge technology solutions on the medical market, creating opportunities for sharing experience, obtaining knowledge and constructing a platform for face-to-face meetings of representatives from the world of medicine, science and business.
SALMED Trade Fair enjoys a well-grounded position as one of the most important fairs in Poland devoted to medical equipment and instruments for hospitals and clinics.
Salmed effect
We reach the following professionals with surgical precision:
Managers of medical facilities
Healthcare managers
Representatives of national and local authorities
Physicians
Laboratory analysts
Physical therapists
Medical rescue worker
Nurses and midwives
Medical staff
Medicine students