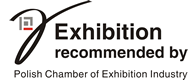 08.01.2018
Whilst export of medical equipment is on the rise, Polish producers are becoming more and more competitive
20.12.2017
For the upcoming Christmas, we wish all our customers, partners and friends Merry Christmas, full of joy, the warm moments spent with your families, as well as health, positive energy, smile every day of the New Year and perseverance in the fulfilment of dreams.
19.12.2017
Let's see whos of the medical equipment and instruments company already has confirmed their participation in the SALMED 2018 and for whom it is worth in MARCH to come to Poznań.
15.11.2017
Asian Hospital & Healthcare Management is a Quarterly magazine from Ochre Media. It is the leading Healthcare title in print as well as digital versions serving the information needs of key executives from the world's leading Healthcare providers.