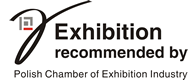 06.06.2017
With great pleasure we present You the changed Poznań Fair Magazine. We invite You to read both its paper and online version. In this issue we present the distinguished guests who visited Poznań International Fair in the recent months, provide reports on the spectacular construction and furniture industry fair and announce the most interesting events of the next months. And moreover…
16.12.2016
We kindly invite you to visit Poznań International Fair! Here you will find business contacts, novelties and the chance to develop your passions. In the latest issue of Poznan Fair Magazine "Exhibition calendar 2017" we present trade fair events, organized by the International Fair for almost all industries.
07.08.2016
We kindly invite you to read the latest issue of "Poznań Fair Magazine". We invite you particulary to read about the GOLDEN MARKETING CONFERENCE, which take place in November. The main topic of this year conference will be neuromarketing, innovation and personalization. PMT readers' interested in participation in the conference can take adventage of special discount.
More news
---

15-18 april, 2018
The most awaited fair of medical instruments
Poznań for medicine
SALMED International Trade Fair of Medical Equipment and Instruments organised every other year promotes the cutting-edge technology solutions on the medical market, creating opportunities for sharing experience, obtaining knowledge and constructing a platform for face-to-face meetings of representatives from the world of medicine, science and business.
SALMED Trade Fair enjoys a well-grounded position as one of the most important fairs in Poland devoted to medical equipment and instruments for hospitals and clinics.
We reach the following professionals with surgical precision:
Managers of medical facilities
Healthcare managers
Representatives of national and local authorities
Physicians
Laboratory analysts
Physical therapists
Medical rescue worker
Nurses and midwives
Medical staff
Medicine students